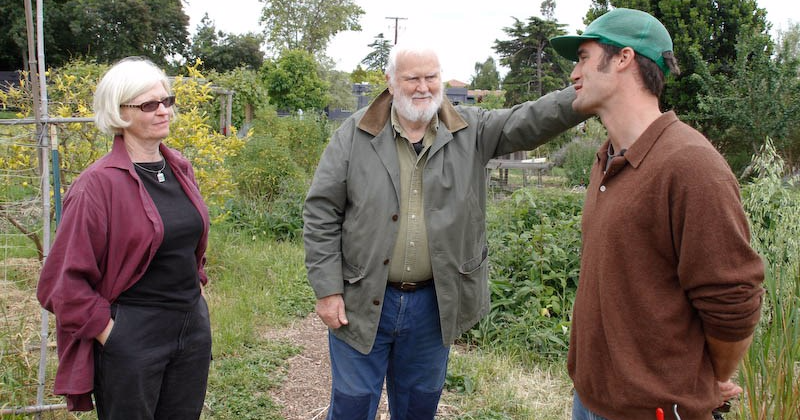 A send off for the Gundaroo Tiller
In 2003 when weeds were threatening to take over my new pumpkin patch down at Joe's Market Garden I turned to Eliot Coleman's New Organic Grower for help. Coleman, who had a deeply considered take on every challenge a vegetable grower may come up against, also had an abiding love of elegant & efficient hand tools. I was especially interested in Coleman's passion for hoes; his collinear hoe, the wire weeder, the oscillating stirrup and the wheel hoe. Wielded with the grace of an old Samurai master, Coleman seemed able to tame acres of weeds with effortless efficiency.
Being so far from the US hardware outlets Coleman recommended in the back of his book, however, I worried where I would find hoes such as these locally.  Desperate searching revealed a single shop which miraculously stocked every hoe Coleman had lovingly described. Allsun Farm. Michael Plane and Joyce Wilkie's small tools website felt like an old seed catalogue (it's still the same today), I gratefully ordered my crop-saving hoes by fax, posted my cheque and waited for my parcel to arrive.
Michael Plane and Joyce Wilkie (that's them above) were geologists who shared a love of growing vegetables.  They met in Canberra and raised two sons on a bush block with a large veggie patch. Producing more than they needed they set up a farmers market-style table once a week at school pick-up time out front of their local Gundaroo Post Office. A friend who couldn't make it down suggested they sell a set $20 box for people like him, kicking off one of Australia's first CSA's (Community Supported Agriculture schemes).
Early on Michael and Joyce had read Eliot Coleman's book and immediately saw the sense in the hand-tools he had enjoyed success with.  Finding none available locally they started importing tools and equipment from Europe, America and Asia.  Allsun Farms went on to supply a generation of small scale Australian vegetable growers with hoes, soil blockers, seeders, electranet fencing and their famous Gundaroo Tiller – a broad fork that took the place of a tractor and plough.  
They also passed on the hard won knowledge they'd gained after coaxing years of  harvests from the thin Gundaroo soils. With an introduction from Peter Cundall, their first e-book appeared as a CD Rom (I still have one in my draw – it's available these days on a USB stick).  And in recent years they've taken on many interns and teamed up with Milkwood Permaculture to run courses on their farm that have spawned a new crop of organic market gardeners. 
Sadly last week, Michael Plane passed away.  For so long, in his practical, down-to-earth way, Michael has played a pivotal role in Australian organic agriculture and made small scale organic farming possible for so many of us who have come after him.  
In the field of opportunity….
These past few weeks Josh Arzt, Fair Food's produce buyer, has been out visiting small growers who supply Fair Food.  Paul at Day's Walk Farm in Keilor, the work-for-the dole crew at 2&5 Farm in Norlane (pictured above) and this week it's Shelley and Craig at Green Gully Organics in Cockatoo.
This is the time for the check-ins and conversations that set the season and spur ideas for what and how much to grow and what new thing people may be interested in eating this year. Josh is always on the lookout for something interesting, something hard to find – he's searching for pomegranate growers at the moment. Anyone out there?
Oh and Josh also has an onion heads-up for this week.  As is the way this time of year brown onions are often in short supply  – this week we have a few for sale as extras in the fruit and veg section but not enough to put in our set boxes.

Have a great week
Chris