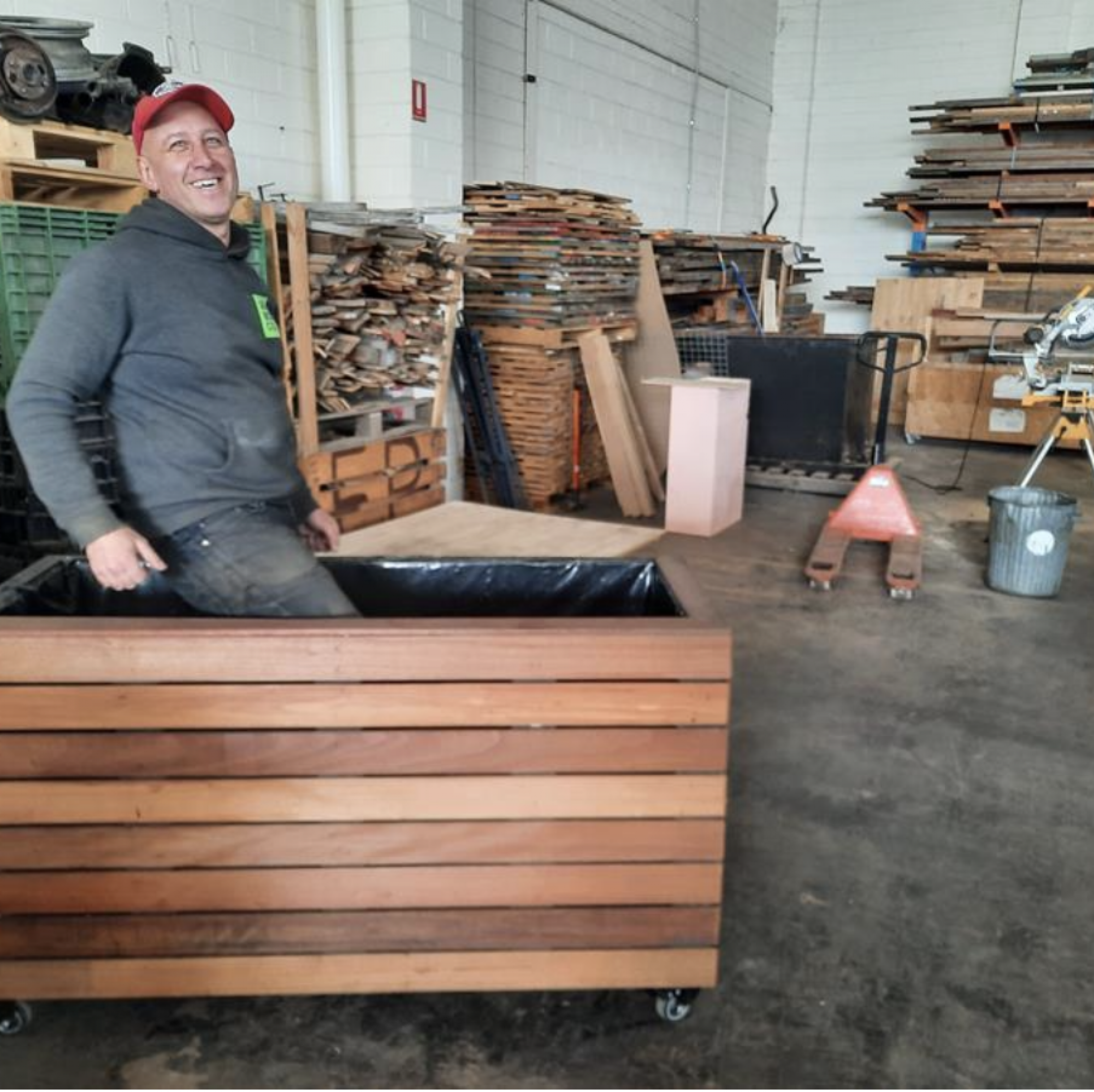 Francis, ReBoxCo & CERES
When Francis Grech says he doesn't like waste he says it with a conviction that's palpable.
11 years ago Francis saw a couple of old wooden apple bins outside Gangemi's fruit and veg shop in Barkly Square destined for the tip.
Unable to see the timber go to waste he hauled the bins home and made a raised garden bed.
A visiting friend admired his handiwork and casually mentioned she'd love one half the size.
"I literally got my chainsaw out, cut the other bin in half and made up a planter box. It was a lightbulb moment and ReBoxCo was sort of born then."
Francis, a full-time firefighter, began making recycled planter beds for friends in his spare time.
Slowly but steadily a growing number of word-of-mouth customers were finding their way to his tiny factory unit and the newly named ReBoxCo.
I was creating something out of recycled timber and it blew my mind that people liked it.
Francis' timber salvaging senses sharpened – he added old paling fences, demolished houses and abandoned pallets to his growing recycled timber stock pile.
A customer from a kinder wanted a garden bed that could be moved so Francis added castors. Soon cafes owners began buying them to create dining spaces on footpaths.
When an order from the City of Fremantle for a hundred raised planter beds came in Francis knew ReBoxCo was more than a hobby.
Two thousand planter boxes later and Francis has saved more than 80 tonnes of timber from landfill.
The quality of some of the beautiful native hardwoods Francis recycles can be heartbreaking – some of which we'll never see again in our lifetime.
During COVID as cafes pivoted to outdoor eating, ReBoxCo was inundated with requests for not only Francis' raised planters but for decks, tables and parklets.
Being a one man band, a firefighter and a new dad restricted Francis to working at ReBoxCo just two days a week.
The frustration kicked off a conversation between ReBoxCo and CERES Fair Wood, who he was already sharing a warehouse, tools, equipment, staff and even customers with.
With a shared goal to recycle as much timber as we could and employ and train people who needed work at the same time it seemed like a natural step for us to team up.
And so this month we got together and became CERES ReBoxCo.
If you'd like to know more about Francis' work or you want to get in touch you can find him here.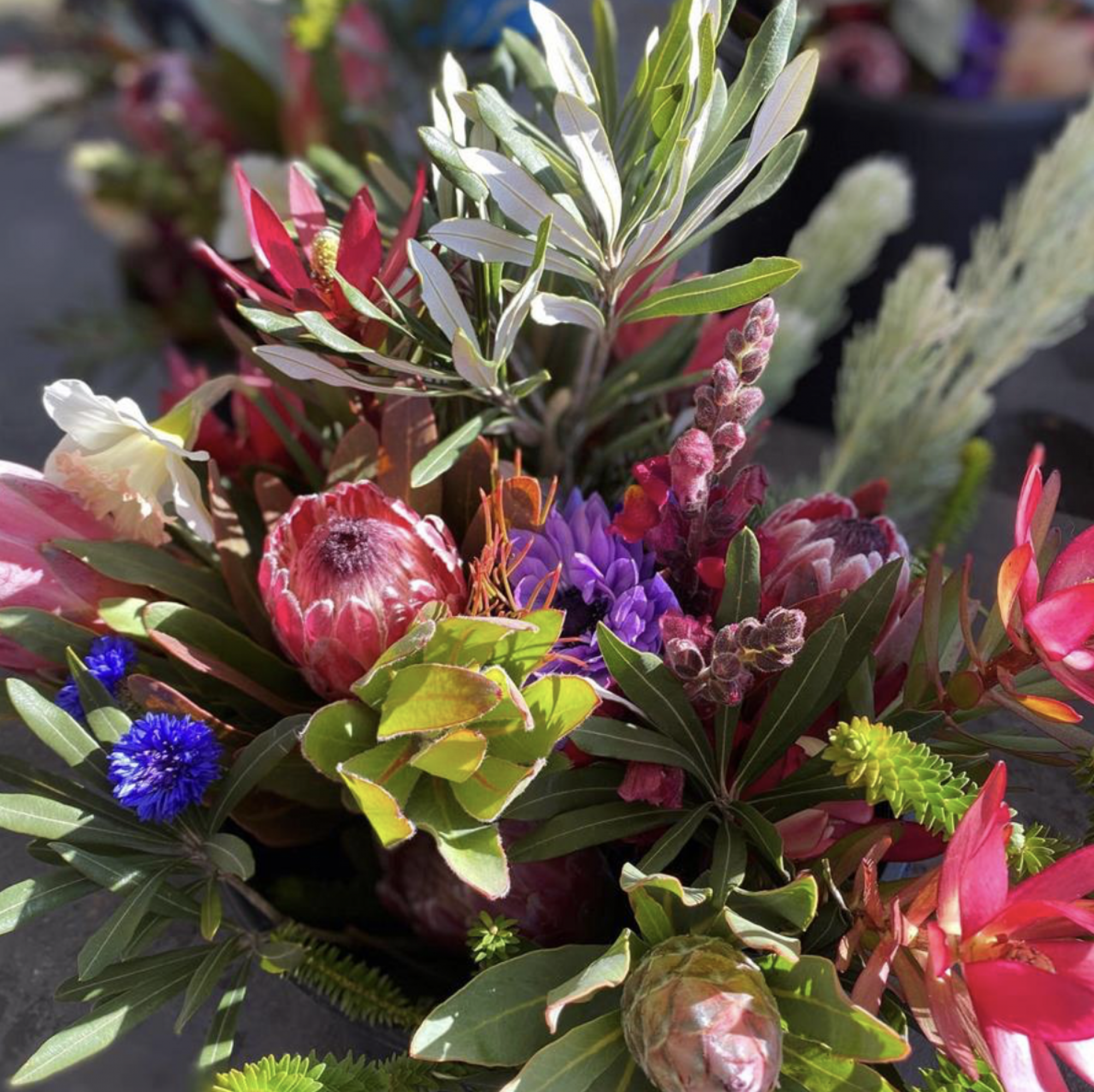 Anna and Ray's flowers
We're so happy to see 302 Flower Farms' protea, leucadendron and native flower bunches back again this Thursday, Friday and Saturday.
Anna and Ray's 302 Flower Farm is perched high up on Mt Macedon – you can read about them here – it's one of our favourite stories.
Their bunches are completely chemical free, long lasting and absolutely beautiful.
302 are only a small farm so numbers are limited. You can find Anna and Ray's bunches here.
A little heads up about our flowers – they may look out-of-stock but if you put something in your cart set it to the delivery day they're available they will magically appear.
Have a great week
Chris
Have a great week
Chris