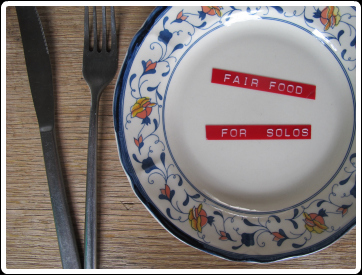 Eating alone doesn't exactly conjure up pleasant connotations, and with the explosion of prepackaged frozen meals and society's obsession with love stories, it's no surprise that some associate solo-ness with hermits who have microwave addictions and eat cereal for dinner. However there are myriad of reasons that people cook and eat sans companions, some by personal choice and others by fate. But whatever the case, everyone has to eat and like the man who was chased up the tree by a lion then enjoyed the scenery, it's best to make the most of your situation.
Sure, cooking for one can seem a little less fulfilling. But despite all the inevitable motivational hurdles, it's an opportunity to get creative without having to cater to the culinary idiosyncrasies of other folk, or on the other hand, it can be a chance to reconnect with long lost friends (or make new ones) over food.
After a year or so of mostly solo meals I've had a chance to iron out some of the cereal-for-dinner creases. If you too find yourself in a solo situation but still want to make the most of your Fair Food box, I've compiled a few tips and hints to hopefully help you do the same.
1. Invest in good kitchen appliances.
Take the unnecessary labour out of cooking by purchasing some time saving appliances such a rice cooker, juicer and blender. I like making double batch smoothies and save a glass for the next morning or after work. Be sure to buy appliances with a high easy-and-quick-to-clean rating.
2. Buy small quantities of fresh produce
The 'Mixed Small Fruit and Veg' box is a good size for one person who cooks most days. However, if you have leftover fruit and vegetables lingering in your fridge at the end of the week, try making soups and freezing them or fruit crumble to share with friends. I like storing frozen soups in my work fridge as a back up meal incase I forget my lunch or run out of time to prepare something the night before. Freezing is also a good way to enjoy out of season produce.
3. Stock up on dried food and shop at bulk bins to save money.
Shop at stores that have bulk bins or pay-by-weigh products such as grains, dried fruit, nuts, coffee and sweets. Not only is this a good way to reduce your consumption of prepackaged goods (bring your own jars, bags, containers to use) but you also save money as you're only buying what you need.
4. Start a food sharing system at your office.
Try getting a small group together and allocating days where one person makes lunch for the others. This can give you a 'rest day' from bringing your own packed lunch and is also a fun way to try other people's recipes (especially if you're always sniffin' their lunch like I am). Since most recipes are designed for 2+ servings, it's an opportunity to get innovate at home and try new dishes!
5. Enjoy your own company/ Spoil yourself
Sometimes when I come home from work all I feel like eating is toast or cereal. However, I've found that listening to music, putting on an apron and drinking a nice cuppa tea makes for a pleasant evening alone cooking. It is also the perfect excuse to indulge in expensive ingredients you've always wanted to try but would be too costly to share with others.
6. Get out more.
One of the best remedies for solo-dinner-blues is to share food with good company. Invite friends over for weekly meals and/or attend a social meet up with a focus on food. There are many established groups with an emphasis on food such as Food Not Bombs, which is a vegan soup kitchen that dishes up meals at various locations internationally. Check out http://www.foodnotbombs.net/contacts.html to find your local kitchen.
One of the best resources I've found is Meetup.com: A worldwide network of thousands of local meet up groups. Just search any keyword with your location and you'll be surprised at how many options there are. Popular Australian groups include Veg for Animals and Eat With Me.
Happy Cooking!