Give us a sign
For months at the new Fair Food warehouse in Preston disorientated delivery drivers have been tentatively sticking their heads in the front door asking if they're in the right place.  The confusion has arisen due to the huge plumbing supplies sign above our roller door, a leftover from the previous tenants.
Clearly something had to be done. First thoughts were to find a sign-writer to put things right.  But contemplating another staid corporate logo in our industrial estate we decided on something different – something honouring our roots, something joyful, homemade and absolutely CERES. 
Thoughts immediately turned to Youbi, who as well as working on the Fair Food packing line was fresh from finishing her latest exhibition, Asian Grocery, nominated as Melbourne Fringe Festival's Best Live Artwork.  With her playfully political approach to art there was really no better choice.
Once Youbi accepted, the race was on to get the sign finished before she went off on imminent maternity leave.  The first challenge was to remove the existing sheet-metal sign  but our forklift wasn't high enough to reach.  The guys who were installing our new solar panels promised to bring it down with their scissor-lift but forgot.  Various ingenious but incredibly unsafe methods were suggested before finally Alistair, our neighbour, came to the rescue loaning us his extra high fork lift.  
Youbi, that's her above laughing as she paints, got to work over the Easter break and finished our new sign this week.  Hanging will commence when there's a quiet moment to borrow Alistair's fork.  If you're in Preston look out for it, we're on Water Rd out the back of Bunnings.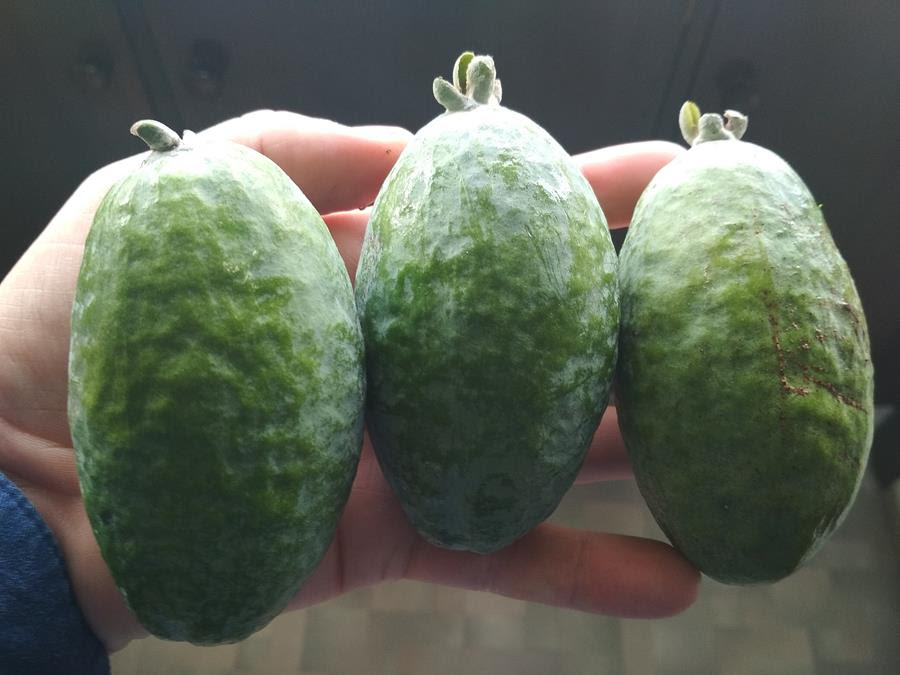 Feijoas, quince, chestnuts & bosc are in
Paul Haar's feijoas are in, Jenny and Steve's quinces and chestnuts have arrived and Johnny Yarra's bosc pears are peaking.  There really hasn't been a more exciting time to be an Australian.
The picture above are some of the enormous feijoas picked from a backyard tree I stumbled into over the school holidays.  Excitedly gathering a bagful of the green giants off the ground I ran over to share them with my host, he graciously declined, nodding over to the overflowing milk crate he had raked up the day before.
The feijoa season is short (about a month) so if you want to try some for the first time or are yearning for your annual feast of  this aromatic and uniquely gritty pleasure then act fast.  And now that it's all wintry and we've stopped saving daylight it's suddenly become the perfect time for stewing quinces and roasting a few chestnuts.
But wait there's more – Johnny Yarra's beurre bosc pears from Petty's Orchard are quite something at the moment (I reckon I've eaten about a kilo this weekend). Named after French horticulturist, Louis Bosc, the beurre part is French for butter and oh so buttery they are right now.
            
Have a great week
Chris