Is this what we're doing now?
Iva from The Asylum Seeker Resource Centre Food Bank called the other day – they need our help.  So many more people are coming every week to the ASRC Food Bank for meals and groceries that they're running out of food regularly.
You might remember last year the government changed the rules for asylum seekers removing many people from supported accommodation.  Now The Home Office (formerly the Immigration Dept) is implementing a sort of "Manus on the mainland" by cutting off income and Medicare support to thousands of people as they wait for their refugee status to be determined.
It's another form of mental torture designed to make asylum seekers' lives as miserable and grindingly hard as possible. All to prove the LNP is tougher than anyone on border security.  I can't help thinking if they were white South African farmers an emotional Peter Dutton would be welcoming them off the plane at Tullamarine, toasting them as heroes for the cameras.
Peter Dutton wants asylum seekers to work. In my experience asylum seekers want to work too.  Which makes me think of Amin*, one of Fair Food's hardest working employees.
After escaping serious persecution in his country Amin was kept in an Australian immigration detention centre.  For five years he says officials treated his refugee claim with absolute suspicion and then one day he was suddenly granted asylum. "You have no idea what this does to a person," he says.
Today Amin shows symptoms of post-traumatic stress.  It's like his capacity to cope with confrontation has been exhausted – even the smallest incident causes him anxiety, flashbacks and sleepless nights. Some days we talk things around and around for hours.
It feels like Amin is barely hanging on and even in a workplace that specialises in supporting asylum seekers he has almost quit numerous times. I know if Amin does quit there's no income support, no Medicare funded counselling and no way for him to pay his rent.
And to know that our immigration and detention system has played a part in so hollowing out this man, a legitimate asylum seeker, that he is struggling to hold his job and then denies him the right to our social safety net, is such a twisted piece of Orwellian cruelty that I can't believe that this is us, that this is what we do to people in Australia now.
You can donate directly to the ASRC Food Bank or drop off any dry grocery donations at the CERES Fair Food warehouse, 20 Water Rd, Preston.
*Amin's name has been changed for privacy reasons.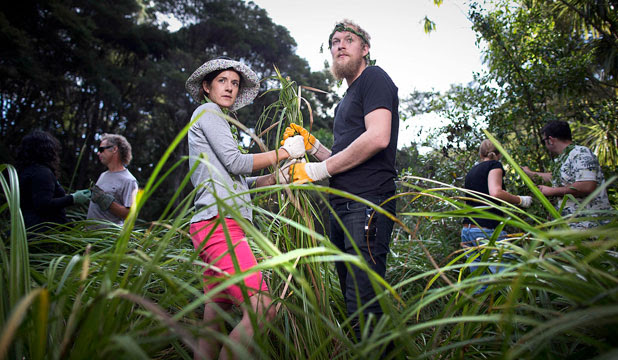 And when she whispered dandelions…..
From time to time a newly single friend asks me where do people go to meet people that's not an online meat market or a cheesy venue you'd never otherwise be seen dead at.
Well……..let me introduce you to the cupid-hand of Emily Connors – queen of the ethical and earthy dating scene and also vegetable farmer at Joe's Market Garden.
Emily has combined her twin talents and her unique urban farm venue to bring you Weed Dating.
You will be ACTUALLY WEEDING, so Em says wear old clothes, gardening footwear, a hat and gardening gloves (if that's your thing).
A light lunch will be provided to help nourish your weed dating experience
This is a super-inclusive event for people who are over 18, Straight, Gay, Lesbian, Bisexual, Transgender, Intersex, Queer.
If this sounds like you book your ticket here!!  Be quick spots limited.
Have a great week
Chris