Once were farmers
Over the past 12,000 years, the age of agriculture, most of us were farmers.  We were wedded to the land that fed us.  The foods we grew defined who we were; people of wheat or corn or rice.   The seasons dictated our diets, the harvests our festivals.  Then less than a hundred years ago in a burst of incredible oil-fuelled ingenuity humanity managed to do what 600 starvation weary generations of farmers have dreamt of – created a cheap, abundant food supply grown by a handful of producers freeing the rest of us to pursue our dreams in the cities and towns. In Australia in 1900 1 in 7 of us were farmers, today only 1 in 33 grow the food we eat.
Cheap is not always cheap
Sadly we're paying for our cheap, abundant food and we're paying through a growing disconnection from the natural world, to the point where we have little idea when we buy a chicken breast or a bag of salad mix where it comes from, who raised it and how, what chemicals and how much energy were used to grow it, process, it, pack it, store it, ship it.  And the further we are isolated from the source of our food the less we understand what food actually is – suddenly what we have come to know as food is killing us – the sugar laden, over-refined, chemically altered, super sterilised, plastic wrapped food we eat is making us obese, giving us diabetes, heart disease, cancer, allergies, making us aggressive and inattentive.
As we push our trolleys down the aisles of Coles and Safeway and we are comforted by idealised rural farmyard pictures on our food labels, the reality is that our demand for cheap food all year round clears away forests and bush, erodes soils on millions of acres of once productive land, cages millions of miserable farm animals, poisons our rivers and oceans and overloads our atmosphere with carbon dioxide.  When compared to everything else we're doing to our planet, industrial agriculture is by far and away the most expensive human pastime.

Deep down all of us want to be farmers…..
…..or perhaps more accurately we yearn to reconnect to the oneness, to the natural world we've stepped away from.  Once we intimately knew the cycles of the seasons, the moon, the tides, the names of stars, how to care for animals, how to build soils, how to save seeds, when to plant, what plants healed or harmed.  We knew the names of wild animals, birds, fish, reptiles and insects, the times they would come and go, when to hunt them and when to leave them.   We worked the land with our bodies and when we died the land took us back.  We told stories and sang songs to pass this knowledge on, stories and songs we have forgotten but would love to tell and sing again.
The Fair Food Movement
How do we begin to reconnect with our food; there is no single more important thing you can do than simply grow food in your garden even if it's only a pot or a poly box.  Second buy local and organic.  Food grown close to where we live supports local economies reduces food miles, cool storage and is naturally in-season.  We can get to know the people who grow our food either at farmers markets or on a Food Connect farm visit or we can get dirty volunteering with the farm crew on the CERES Organic Farm.  Buying organic means supporting small diverse farms that treat animals humanely, use natural inputs, build soils and protect wild habitat.  We can also buy together – when we group together around food we not only save money we begin to build resilient communities, we meet people, we share values, we swap stories, recipes, preserve together or just say hi when we come to pick up our weekly veggie box.  Small but important things.
Food Connect Origins
One of the shining lights of the fair food movement has been Brisbane's Food Connect, founder, Robert Pekin, as a dairy farmer, he has experienced the highs and lows of the industrial food system; after a drought and the collapse of the milk price he walked away from his family's dairy farm in Colac with the clothes on his back, a broken marriage and a $100,000 debt. While living in self imposed exile in the Tasmanian bush, Robert came across a Community Supported Agriculture (CSA) subscription farm that provided weekly produce boxes directly to customers.  The discovery helped him realise that as a dairy farmer he had no connection with the people who drank his milk.  Inspired, he established his own successful CSA farm and then in 2004 went to Queensland to create Food Connect, a 'mega' CSA, sourcing produce from more than 60 farms within a 5 hour radius of the Brisbane CBD, suppling over 1000 families a produce box each week.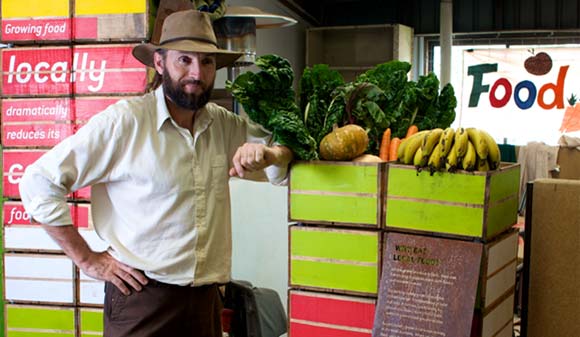 CERES Co-ops and Food Connect
Like Robert Pekin, CERES Market has been on a mission to provide affordable access to organics to as many people as possible.  For the past 7 years CERES has been supplying low cost organics by the case to local food buying co-ops.  If you are unemployed, studying, have just had a baby or just want to be part of something local then CERES food co-ops have been a great solution.  What began as a small sideline to CERES Market has now grown to supplying around 300 co-ops boxes a week.  A constant stream of enquiries about new co-ops and a desire to support more local organic farmers has been the catalyst for CERES to form a partnership with the Food Connect network (new Food Connects are launching in Sydney, Adelaide and Coffs Harbour).  As from March 25th 2010 CERES Food Connect will begin trading as a new social enterprise that will employ 15 people, many from disadvantaged communities and begin helping people connect to the source of their food. CERES will still continue to supply fruit and veg by the case to local food co-ops and wholesale produce to retail outlets.  Food Connect is also supplying businesses with organic office fruit boxes – this service is called Fruit Connect
How it works
For anyone who knows food co-ops or Community Supported Agriculture (CSA) schemes Food Connect will be very familiar; it's a kind of a hybrid of the two.  Individuals go online and choose from 6 basic box types, add extra items (e.g. eggs, bags of apples etc) and then pay via the web either with a credit/debit card or by direct pay.  Customers pay weekly in blocks of four weeks with the option to pay 3, 6, & 12 months ahead, this allows Food Connect to pay our farmers up front or on delivery which is sometimes the difference between a farm making it through a season or going under.  The further you pay ahead the cheaper your food becomes.  If you go away or want to stop, restart or change your order you can do this via the Food Connect website as long as you get your changes in the day before your order is delivered.
City Cousins box collection points
Like co-ops Food Connect works with collection points or City Cousins where your food box will be delivered – this could be somebody's house, a workplace, a school etc.  Pick-ups from City Cousins are scheduled for a set time each week i.e. between 5-8pm every Thursday unless otherwise arranged.  City Cousins can be "open" which means new members are introduced via CERES to the City Cousin whereas a closed host invites new members themselves and might be comprised of a group of workmates or parents from a school or just a group of friends in a neighbourhood.
The Farmers and the Produce
CERES Market has been cultivating relationships with Victorian organic farmers for 10 years.  With our new warehouse across the Merri creek in Northcote we will be able to source more and more produce direct from farmers – our aim is to buy the great majority of our food from as close to Melbourne as possible which includes our own farm.  For those who can't do without them we will continue to source bananas but we're looking to find the most sustainable way of bringing them down from NSW and Queensland.  We are also working on building a network of local transport hubs where instead of every farm sending a van or a truck to the city, farmers share transport to reduce food miles.  To get to know where your food comes from CERES Food Connect will be organising farm visits, tastings and CERES farm volunteer days through the year.
Food is power – join the fair food movement