The produce and the people
Today I was taking pleasure in a wheelbarrow full of a dark, moist chocolatey compost; a  miracle of microbiological transmogrification.
I'm no musician or gifted cook, but I can make a pretty good compost (it's possibly genetic; my dad is well known for his heaps).
Anyway, I was admiring the compost because Alan, our neighbour's, tomato seedlings have come up.  Which means it's time to get the summer garden beds ready.
Each autumn Alan gathers from people on our street a favourite home-grown tomato and saves the seeds for the next season.
And each spring on his sunny window ledge above a heater vent Alan propagates seeds and gives out new seedlings to plant again.
Over in our park while walking his dog, Alan provides anyone who will listen a running commentary on how each variety is going – he gives them all names; El Greco, The Toe, Burnley Delight.
This year Alan's worried about his Croatian beefsteak, which he's named after an obscure Croatian tennis player, it hasn't come up yet.
They'll come up, we all reassure him, they always come up. But Alan's worried and he plants more. All the Croatian seeds come up the next day.
Planting time means we'll see our friends we share our community garden plot with for barbecues.  We'll see all the other gardeners watering in the evening and talk to the curious walkers who want to know about our plots.
Come harvest time we'll share our tomatoes, basil and zucchini with Kun, another neighbour, who is always dropping us off bags of limes and feijoas and anyone else we encounter in the park on the walk from garden to home.
We'll make a few jars of tomato chutney to give as pressies for friends and family who drop by or to bring to picnics.
And I'll scour the neighbourhood to get at least one new intriguing tomato for Alan to plant for all of us next year.
It's funny the longer I grow veggies the less it becomes about the produce.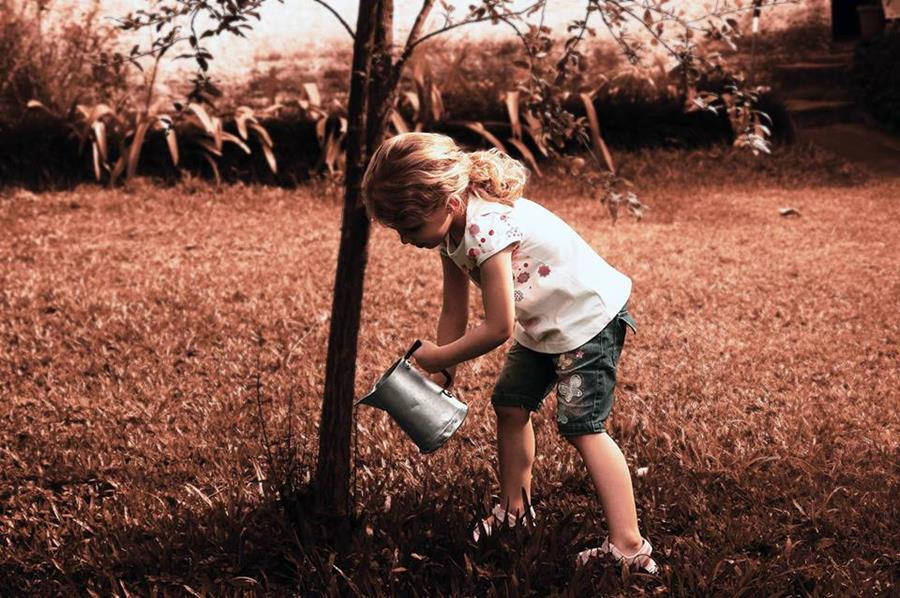 I didn't think about it at the time but I spent a big part of my childhood in my dad's veggie patch – not being helpful but in there all the same.  Looking back now I can see how much of a huge impact that time had on me.
This school holidays in CERES' Honey Lane's market garden the Junior Urban Farmer course is connecting young people with their food, teaching kids how to grow veggies at home.   It's for 5 to 12 year olds –  more info here
And if you live near Joe's Market Garden in Coburg – farmer Em Connors runs a Farming for Kids session on the first Saturday of the month
Have a great week
Chris