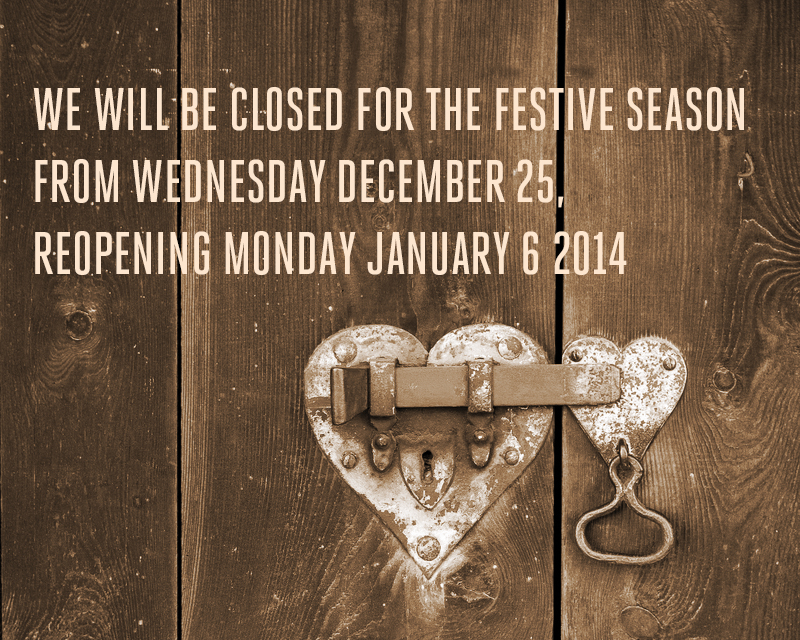 CHRISTMAS CLOSURE AND LAST 2013 DELIVERY DATES

Fair Food will be closed from 3pm Christmas Eve (December 24th) until Monday 6th January
Our last Tuesday Food Host delivery will be Tuesday 24th December
Our last Wednesday Home Delivery will be Wednesday 18th December
Our last Thursday Food Host delivery will be Thursday 19th December
We reopen Monday 6th January with deliveries as normal that week
Please note some Food Hosts may be closed for extra holidays but you can tell this when you order as you will not be able to select the dates they are closed.
FOOD HOST HOLIDAY CLOSURES
Frederick St, Brunswick: 24th Dec
Glenlyon Rd, North Fitzroy: 19th Dec, reopening 30th Jan
Clarke St, Northcote: 24th Dec & 14th Jan
Peckville St, Clifton Hill: 24th Dec
Weidlich Rd, Eltham North: 24th Dec & 7th Jan
Union St, Northcote: 7th Jan
Morley Cres, Box Hill North: 9th & 16th Jan
Rigby Lane, Kensington: 9th and 16th Jan
Our office will be open Tuesday 24th December until 3pm, and any urgent customer service issues (ordering issues, credits, etc) will be handled promptly on Friday 27th December. Please keep in mind we will be unable to offer product replacements and deliveries after the 24th of December due to the holiday closure.