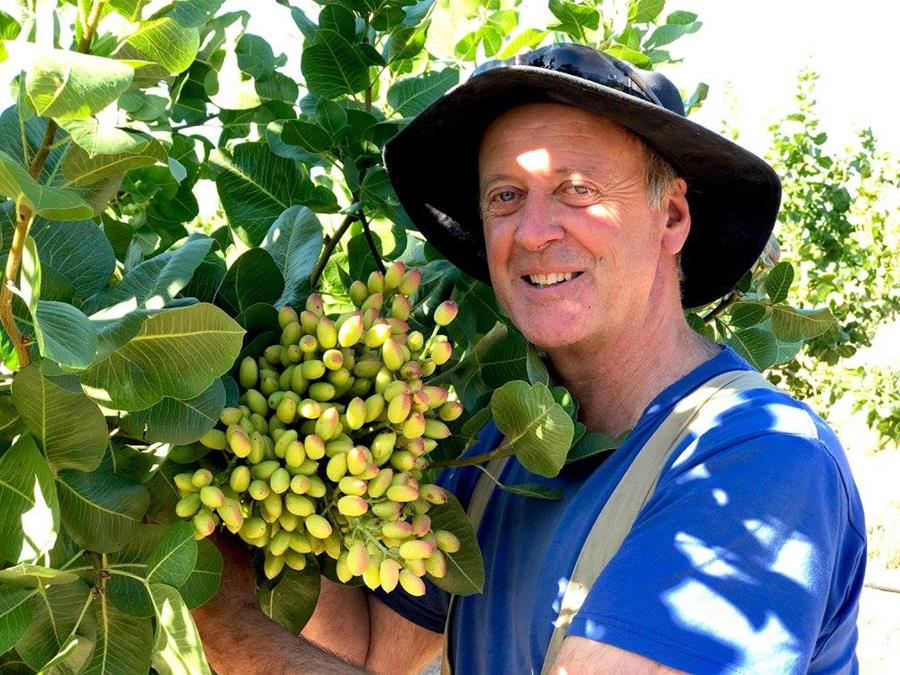 Unexpected harvest
When pistachio farmer Shane O'Dea returns my call, he explains he's been tied-up in the neo-natal intensive care unit delivering a set of twins.
Like many farmers, Shane has a city job that helps keep the farm going.
Six years ago Shane O'Dea, wandered into the Fair Food warehouse with a 5kg box of shiny blush pink fresh pistachios and asked if we were interested in trying some.
It was the first time many of us had seen a fresh pistachio and needless to say we didn't need to be asked twice.
Every autumn since Shane has delivered a few boxes of his precious fresh pistachios to Fair Food.
Back in 2004, with climate change in mind, Shane, his wife, Anne, sister, Jenny, her husband, David (that's him in the pic above), and their father, Bernie (91 and still working), planted 2000 pistachio trees on the family's Goulburn Valley sheep farm.
Shane remembers people saying their trees wouldn't fruit because Wahrina Farm was too far South.
But Jenny, Shane's sister, had done her research discovering that in the 1970's the CSIRO had trialled pistachios in the Goulburn Valley not far from the O'Dea's farm.
Jenny had even spotted a patch of ten pistachio trees on her way to Deniliquin, wondering if they were the CSIRO's original trees.
Pistachios are hardy. Right through the Millennium drought, the 46C days, the frosty winter mornings, the pistachios at Wahrina Farm flourished.
It takes ten years until pistachios are ready to harvest and each year since then Shane and his family have learned that pistachio farming is rewarding though seldom straightforward.
In 2020 Wahrina Farm was celebrating its best harvest ever but with COVID closing farmers markets and none of Shane's bricks and mortar retailers taking fresh nuts, a great year turned sour.
In 2021 heavy rains stained and water-damaged the crop reducing the harvest by a third.
Then in 2022 a brutal ten-minute summer hailstorm bruised still-soft shells leaving the family wondering if there would be any fresh crop at all.
If you've eaten fresh pistachios already this year you'd know that a few did survive, though Shane sighs when he talks about painstakingly picking out all those hail damaged nuts that ended up being fed to the sheep.
For Shane the weight of a hard season is rebalanced each week at farmers markets when he meets the people who love his pistachios, and there are no people who love his pistachios more than Melbourne's Persian-community.
At the annual Chaharshanbeh Suri (Persian Fire Festival) in Templestowe that celebrates Persian New Year, or Nowruz, Shane and Anne found their fresh pistachios one of the hottest tickets in town.
The love has been so strong that over the last few years Shane's Persian customers have started coming out to the farm to pick their own.
Pistachios are native to Iran and no special occasion or celebration ever happens without them.
Being connected to a new community by a sorely missed food has brought Shane an unexpected harvest of new friendships and a world of traditions and stories that grows in him each year.
It's something he never imagined when he and his family began replacing their sheep with nut trees all those years ago.
Be quick!! Shane's fresh pistachios are only available until this Tuesday in the webshop. Find them in 250 gram and 1/2 kilo bags.