Serves 6
Ingredients
1/2 tsp Saffron threads
1 Tbsp Water
1 tsp ground cumin
1/4 tsp ground cinnamon
pinch or more of ground chili
2 Tbsp Olive Oil
1 red onion, thinly sliced
1 brown onion, thinly sliced
1 knob of ginger, minced
2-3 cups vegetable stock
1 tsp salt
ground pepper
10 dried apricots, cut in half
1 1/2 cups cooked chickpeas (or 1 can)
1 kg Jap Pumpkin
200g baby spinach leaves, chopped
grated zest of one lemon
freshly squeezed juice from one lemon
Summary
Soak the saffron threads in the water and set aside.
Blend the spices together and set aside.
In a large, heavy-based saucepan, heat the olive oil over medium heat.  Stir in the onions and cook until they begin to brown.  Stir in the ginger and spices until mixed and add the vegetable stock, saffron in water, salt and pepper.  Bring to a boil.
Stir in the apricots, chickpeas and pumpkin.  Cover and cook over low-medium heat until the pumpkin is tender but still firm.  Add more water if it becomes too dry.
Stir in the spinach and lemon zest.  Cook for a minute or two.
Add the lemon juice and serve immediately.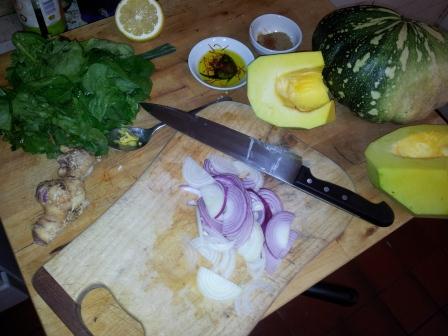 You can order organic pumpkin when in season, along with many other groceries from our webstore.