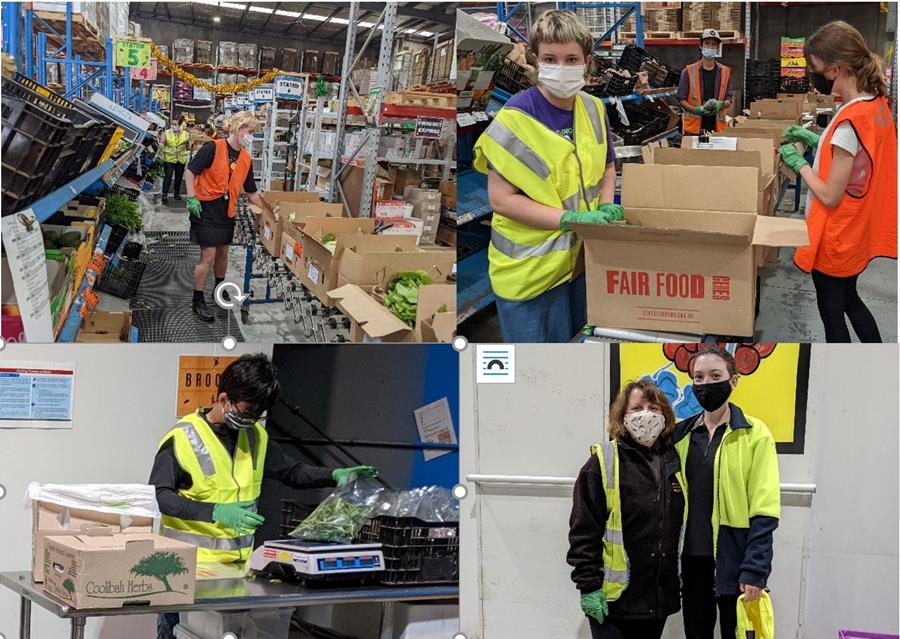 The kids are alright
The first day of the year back at Fair Food is always busy – Tuesday was no different with all 450 delivery spots sold out.
The packing and driving crew lead by Hema Gurung, Mo Nabaie and Robyn Lasker, knew it'd be a big day.
They also knew after Tuesday the rest of the month would be quiet until people came back to work and school.
Getting ready for the next day the Fair Food packing and driving crew began taking their rapid antigen tests at home.
A couple of packing crew called Hema in the afternoon to say they were positive followed by another and then another.
By 10pm that night five packing crew, two drivers and Hema herself had either returned positive RA tests or were close contacts.
On any other week there'd be plenty of extra hands along with our B-Team back-up crew to call on, most however were still on leave, scattered around the State, phones switched off or out of range.
Close to midnight enough packing crew had been scrambled together to replace our eight isolating cases.
A couple of B-Team members driving in from regional Victoria were told to turn around and go home, something we'd regret come morning when two more packers and two more drivers returned positive RA tests.
Extra replacements rushed in during the morning but the effect of so many experienced crew off on one of our biggest days quickly became apparent.
At 11pm Delivery Co-ordinator, Robyn Lasker, who had put in a twelve hour day, messaged that the last order had just been delivered – four hours later than scheduled.
The next day was quieter but two more positive RA tests blew packing and delivery times out again.
By Wednesday we figured we needed to over-staff all our shifts.
The call had gone out and many CERES staff came to pack but then a curious thing happened – our teenage children and their friends began putting their hands up to come to help.
And from Wednesday and every day since they have turned up early in the dark to make sure that Fair Food stays open and people get their groceries.
Veteran packing crew member Koula Courtot's eigthteen-year-old daughter, Tamsin, fresh from finishing year twelve, spent the week in the coolroom with her mum packing hundreds of milk, yoghurt and butter orders.
Roma Mullins, just fifteen, who did a week's work experience with Fair Food in 2021, gave up her schools holidays and showed everyone she could pack beans with the fastest of us.  
And on Packing Station Six, sixteen-year-old Stella Freeman became a third generation CERES worker – her grandfather, Gil, a CERES founder and her uncle Rhys at CERES Nursery, coming before her.
By Saturday the teenage contingent had grown to five – Customer Service manager Richelle Carroll's, daughter Mia, and our own fifteen-year-old son, Milo, were pre-packing bag after bag of beans, cherries, salad mix and spinach leaves.
These kids who exasperate us with their screens and extreme indifference towards simple household chores were here, waking up early, being of service for their community.
To see their masked faces with eyes serious and focussed, small frames working in too-big fluoro vests gives me a chill… the kids are alright.
Next week some of our packing crew will recover and start returning to work, but we are expecting others to become positive and have to go home – for now this is the new normal in the food and logistics sector.
With so many inexperienced workers and the prospect of new cases we've capped the number of delivery spots we are doing.
This means some days will sell out early, already this week Monday and Tuesday are full.
Hopefully we'll be returning to normal soon but until then get your orders in and hold on – this month could be bumpy.
Have a safe week
Chris