Serves 4-6
Ingredients
For the lentils: 
2 tbsp olive oil
1 tsp cumin seeds
1 small onion, diced – brown, red whatever you've got
1 small red chilli chopped – flakes would work too
10g ginger, cut into 2 slices – to easily fish them out later
2 cloves garlic, chopped
250g puy lentils
1.25 litres of stock
2 bay leaves
A handful of finely chopped greens – silverbeet, kale – spinach all great
A handful of chopped parsley
Salt, pepper and a squeeze of lemon if you've got it.
For the Roast veg:
1/4 pumpkin/butternut squash
400g tomatoes
olive oil
salt
pepper
cinnamon
balsamic vinegar
Summary
With this recipe, we officially declare it 'cosy food season'! These lentils are a real workhorse during the colder months, they're so nourishing and can take on any roast veg you might have to hand. Potatoes, parsnip, beetroot, pumpkin, tomatoes, eggplant – if it roasts, it'll be happy in this meal. Take it to the waste-free-next-level with crunchy pumpkin seeds!

Puy Lentils with Roast Veg
Serves 4-6
For the lentils:
Bring a large saucepan to medium heat with the oil. Add the cumin seeds and allow to bloom and become fragrant for a minute. Add the onion, chilli, a pinch of salt and cook gently for 10-15 minutes until sweet and translucent but not browned. Add the garlic and ginger and cook for a minute more until garlic is beginning to soften.  Add rinsed puy lentils and stir to coat them in the tasty flavours you've developed thus far.
Pour in stock and bay leaves and stir to combine. Bring to a boil and then reduce heat to a simmer and cook for 25-40 mins (it depends on your lentil, some cook quicker than others), adding in splashes of water if it gets too dry – you want it to be like thick soup/dahl in consistency. In the last throws of the cooking add your greens and stir until just wilted and tender.
Season with  salt and pepper.  Scatter with chopped parsley and perhaps a squeeze of lemon.
For the roast veg:
Any roast veg goes well with these lentils, but our fav combo is pumpkin and tomatoes .
Preheat oven to 180°C
Scoop out the pumpkin seeds, give them a wash and reserve!
Cut the pumpkin into 2.5cm  'cheeks' (slices) – keep the skin on.
Place cheeks on an oiled baking tray, drizzle with more oil and season on both sides with salt, pepper and a pinch of cinnamon.
Put the seeds on a small tray that you can put a lid on (they pop in the oven)  – we use a cake tin with a smaller cake tin on top.  Drizzle with oil and salt, perhaps some tamari.
If you've got some tomatoes handy make a tray of them too – we keep them whole – drizzled with olive oil, salt, pepper and a slosh of balsamic.
Roast the pumpkin cheeks and tomatoes until they are crunchy, brown and slightly caramelised – about 25 mins for the tomatoes and 40 for the pump. The seeds will take less time – you'll hear them begin to pop and you know they're almost done. Take them out give them a shake, check if they're crunchy and golden yet – pop them back in if needs be.
Serve up bowls of the lentils topped with roast veg and scattered with crunchy seeds on top – dig in!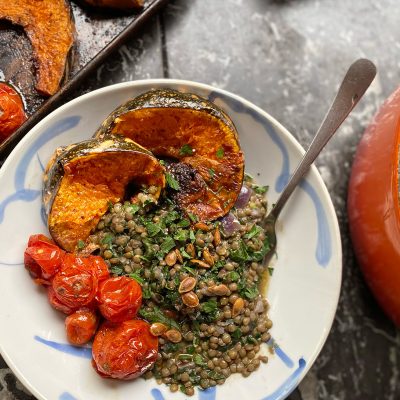 Hints and Tips
If you cook this for your lady, she will be warm and cuddly.
But make sure you prepare the lentils properly, otherwise you won't be able to join her under the covers!