Serves 4
Ingredients
Spice blend – 3 tsp ground cumin: 3 tsp ground coriander: 2 tsp turmeric: 2 tsp ground ginger: 1 tsp cayenne pepper
1 can whole peeled tomatoes
3 large cloves garlic
2-3 zucchini, diced
½ sweet potato or equiv pumpkin, diced
3 pieces of seasonal Moroccan style veg, diced or sliced (ie. eggplant, capsicum, fennel, red onion, cauliflower etc.)
1 can chickpeas, washed & drained (or 480g chicken thigh fillet if you prefer meat)
3 tbsp olive oil
2 tsp ground cinnamon
4 tsp sugar
2 unpeeled & cored quinces, quartered
Juice of ½ citrus of choice
1 tsp vegetable stock powder or equiv.
2 cups instant couscous
3 tbsp dried raisins & flaked almonds
Salt and pepper to taste
Summary
Quinces, the fruit of love. Like all relationships, these versatile pomes fruits require a little care to reach their full potential. Great in savoury Moroccan style dishes, here's one Moroccan Quince & Chickpea Tagine we prepared earlier.
Please note: quinces are only available in our webstore for a short time from the Extra Fruit n Veg Section.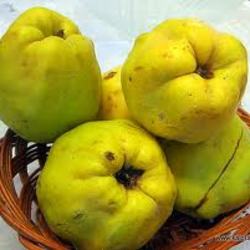 Moroccan Quince and Vegetable Tagine with Chickpeas or Chicken
Preheat over to 230°C. From ingredients list, combine spices listed under 'spice blend' in a small bowl. Set aside.
Drain tomatoes, sliced in half and set aside. Transfer juice into a small saucepan. Stir garlic (crushed), 2 tsp sugar, 1 tbsp spice blend and 3 cups boiling water into tomato juice. Bring to boil, then lower heat and simmer to reduce (approx 15 mins).
While tomato juice is simmering, peel (if necessary) and cube vegetables. You can use whatever Moroccan style vegetables you have on hand (eggplant, sweet potato, zucchini, cauliflower, capsicum etc).
In a roasting pan, toss tomatoes, veggies & chickpeas, with remaining spice blend, olive oil, salt & pepper to taste.
On a plate, combine remaining 2 tsp sugar with cinnamon, and coat sides of quince pieces with cinnamon sugar. Arrange quinces skin-side down around the sides of the roasting pan. Any remaining cinnamon sugar can be sprinkled on top of quinces. Roast veggies for 20 mins.
Then pour in reduced tomato sauce, gently turning the sauce through the veggies. Cover with foil, turn heat down to 180°C and bake for an additional 20-30 mins, or until veggies are soft.
Put couscous into a bowl. Boil 2 cups of water, add stock and juice of ½ citrus of choice (I prefer orange) and pour this into the setting couscous. Let sit until moisture absorbed. Fluff with a fork. If the water is not absorbing properly, you may like to zap it in the microwave for 30 seconds or so.
Once couscous is hydrated and fluffed, add a little good quality organic butter, raisins and toasted flaked almonds if desired. Serve flavoured couscous hot, as an accompaniment to this deliciously warming Quince and Vegetable Tagine.
Hints and Tips
If you prefer to use meat, chicken is a great option for this dish. You will need approximately 120g of thigh fillet per person, so increase the quantity of your spice blend and oil content accordingly if you're cooking for more than 4 people. You will need to sear the meat before you put it to cook with the vegetables. The best way to do this is to rub some of the spice mix into the chicken thighs, then heat some oil in a non-stick pan on high heat and quickly brown the outside of the fillets. Then place them into the baking tray along with the vegetables and quince pieces.