Ingredients
2.5kg Tomatoes
Olive Oil
2 Onions, diced
6 cloves Garlic, minced
1 cube vegetable bouillion
1 handful of fresh Basil, chopped
Fresh Oregano, Thyme and Rosemary to equal another handful, chopped
Salt and Pepper to taste
Summary
1. Blanche the tomatoes in a pot of boiling water for a minute and then remove from the water to cool.  When they're cool enough to touch, slip the skins off and cut in halves.  Use a small spoon, or clean fingers to scoop out the seeds into a sieve over a bowl to catch the juice.  Roughly chop the peeled, seeded tomatoes and set aside in a bowl along with the juice.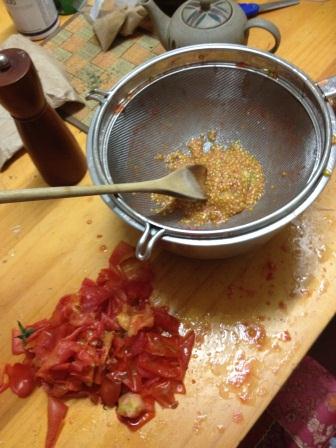 2. Heat the olive oil over low flame and cook the diced onions for about 5 minutes.
3. Add the garlic – cook for 1 minute more and then add the reserved chopped tomatoes , juice and bouillion cube.
4. Bring to a simmer and cook over low heat for at least 1 hour (I cooked for 2 hours).
5. Add the chopped fresh herbs and salt and pepper to taste during the last 15 minutes of cooking… and bellisimo, it's finished!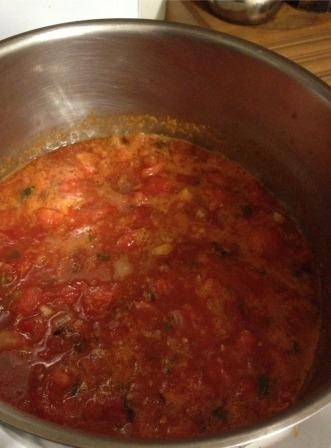 Use over pasta, pizza or wherever you like to put your sauce.
Hints and Tips
Use more or less garlic and any amount of fresh herbs of your choice. You can use dried, but it won't taste as good.
Save the seeds from the tomatoes, dry them and plant in the spring….it's a beautiful cycle!